Conference registration includes three days of conference sessions, basic materials, a CD version of all the papers and refreshment breaks. El registro incluye la asistencia los tres días de Conferencia, materiales y una version en CD de las ponencias.
Speakers wil be invited to a special event dinner. Los ponentes serán invitados a una comida especial.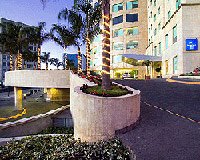 Novotel México Santa-Fe
Registration

/

Registro

Rates

/

Tarifas

Speakers (Authors)

/

Ponentes


(presenting a paper at the Conference)

$50 USD

/

$550 pesos mexicanos

Participants

/

Asistentes


(attending the Conference)

$75 USD

/

$825 pesos mexicanos


(before October 21th)


$100 USD

/

$1100 pesos mexicanos


(after October 21th)

UIA students

/

Estudiantes UIA

$10 USD

/

$110 pesos mexicanos
Banking Deposit

/

Depósito Bancario

Banco / Bank: Banco Nacional de México, S.A. (BANAMEX)
Nombre / Name: Universidad Iberoamericana, A.C.
Cuenta No. 12592
Sucursal No. 4254
CLABE: 002180425400125923
Moneda / Currency: Pesos Mexicanos
Referencia 1* (numérica): 3312500451
Referencia 2*: Nombre de quien deposita (Your name)
Ficha de depósito: Línea Banamex
International Swift Code: BNMXMXMM

* Las referencias son imprescindibles para aceptar el pago.
Hotel Reservations

/

Reservaciones de Hotel

The conference hotel is the Novotel Mexico Santa-Fe, just few meters from the university and near to an extensive commercial area. The special conference rate is $100 USD plus taxes. El hotel recomendado del evento es el Novotel México Santa-Fe, a pocos metros de la universidad y cerca de una amplia zona comercial. La tarifa especial para la conferencia es de $1100 pesos mexicanos más impuestos. Reservations must be made by October 10, 2005 to take advantage of the special rate.
Ask for pickup service from airport to hotel. Las reservaciones deben ser hechas antes del 10 de octubre para tener derecho a la tarifa especial. Al reservar pregunte por el servicio de transporte del aeropuerto al hotel.
Hotel code: 3550
Address: Antonio Dovali Jaime 75, Col. Centro de Cuidad Santa Fe, 01210, México.
Tel : (+52)(55) 9177 7700
Fax : (+52)(55) 9177 7701